Modern, efficient and reliable mobile ePOS designed to help increase sales & improve customer retention
The cloud-based platform which offers an easy to use system to deploy, manage and scale your operations without the complexities and limitations of traditional IT systems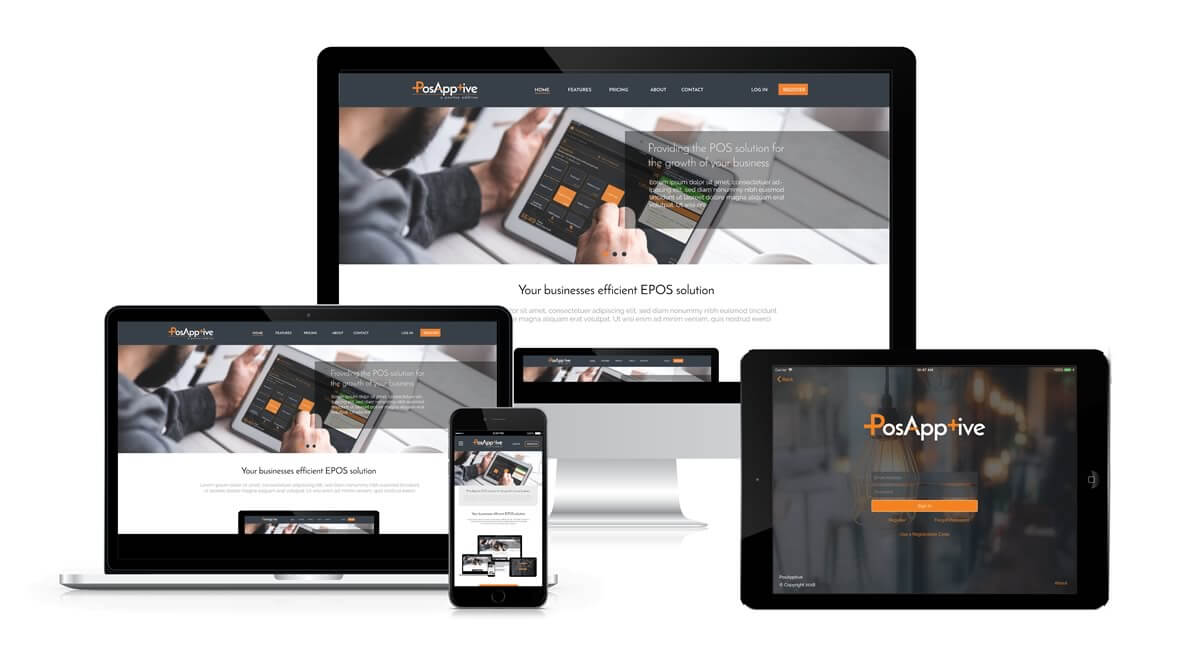 The one stop shop for all your POS business requirements
PosApptive offers the complete all-in-one solution by turning your iOS device into a fully featured POS system, with a Website, Online Booking and Online Ordering. 
Instant online presence!
PosApptive allows you to instantly setup your website and publish your menus so your customers can order online.
Don't have a website? Don't worry! once you have registered your domain PosApptive will allow you to quickly and easily create your content all from one app! immediately publish your menus and stock items to the web allowing customers to order online, book or make reservations in advance.
Reduce Costs
PosApptive provides a flexible point of sales system including stock management, customer self-service, and website publishing for one fixed monthly cost.
Streamline your business process and cut out unnecessary costs and increase sales and customer retention. No need for a separate online ordering or booking system, everything is built in and ready to go!
Streamline your Business
PosApptive provides a powerful, simple to use point of sale system that manages your stock and provides seamless customer self-service.
Secure integrated payment makes processing transactions easy whilst providing convenience for customers. Why not take the headache out of running your business and implement a powerful easy to use one stop shop!
Dashboards & Reporting
PosApptive provides instant real-time reporting dashboards so you can quickly see all your stats at the click of a button. Every transaction can be accessed via Outlet, Product type, device, operator in real-time meaning you have a single window into your business.
Reports can be extracted and saved making management roles and reporting simpler.
Simplicity, No matter what your business sells
Whatever your business PosApptive provides a flexible yet powerful solution that puts you in control. Role-based security allows you to provide the tools and functions needed to change menu or stock items, change pricing, add promotions and special offers.
The all-in-one EPOS solution that works for you. Customise your setup to match your business requirements with our easy to use tools.
Thats not all!
We also support the following business types too, heres the full list:
Tools for managing your business
An ePOS solution that allows you to create a customisable menu, variations and modifiers all in real time right from the mobile device. Manage your entire setup within the app - no need to login to another website or wait for your changes to take place
Faster payments for everyone
With integrated payment options, PosApptive offers a faster more streamlined solution for your business - there is no need to key in order values, simply select the payment option and take the payment!

Contact us to learn how PosApptive can change the way you do business
Get in touch to arrange a demo and get started with PosApptive - the affordable, simple and intuitive solution optimised for iOS
Don't just take our word for it
See what our customers are saying about PosApptive
A simple solution that caters for all our business needs, we can now take table side orders which always impresses our customers
As a small growing business, we wanted a system that would be able to re-use existing hardware so PosApptive was our number 1 choice
Stunning user interface whilst still being very practical and easy to use, we can on board new users very quickly